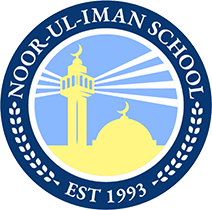 Privacy Policy
Noor-Ul-Iman School respects and values your personal information, and is committed to protecting your privacy. This policy governs Noor-Ul-Iman School's website data collection and use via http://www.nuischool.org. By using the Noor-Ul-Iman School's website, you are deemed to have consented to the practices described in this policy.
Collection of Personal Information
Noor-Ul-Iman School shall keep personal information confidential that it collects, such as first and last name, email address, home or other address, telephone number, and facsimile number. We will not distribute, sell, or otherwise share your personally identifiable information with anyone outside the Noor-Ul-Iman School community.
Information that may be collected by Noor-Ul-Iman School via its website includes the names of parents and students, mail and email addresses, and telephone numbers. Additional information that may be collected includes secure connection information, the originating IP address, authentication information for accounts, browser type, domain names, access times, referring website addresses, and pages viewed. This information is used by Noor-Ul-Iman School for the operation of the service, to maintain the quality of the service, and to provide general statistics regarding the use of Noor-Ul-Iman School's website.
Use of Personal Information
Personal information that is collected will be used strictly to maintain contact information, ensure the security of our website, and enable the processing of gifts to Noor-Ul-Iman School. The school may use your information to contact you about activities and opportunities within the school community. Your email address may be used to provide you with information about Noor-Ul-Iman School unless you request that it be removed from our mailing lists.
Noor-Ul-Iman School may also collect electronic information during your use of its website. Noor-Ul-Iman School may collect domain name information to enable it to analyze how visitors use this site. This data enables Noor-Ul-Iman School to become familiar with people who visit its site, to improve its services and obtain statistics regarding the use of its website.
Social Media
NUI uses Facebook, Instagram, and Twitter Feeds on our website to advertise the school; it may appear in certain users' newsfeeds. Remarketing may display relevant ads tailored to you based on what parts of the Noor-Ul-Iman School website you have viewed by placing a cookie on your machine. For all social media, the information you allow us to access varies by social networking site and depends on the level of privacy settings you have in place on the social networking site(s). You can check and find out more about these privacy settings at the applicable social networking site(s).
Links to Third Party Sites
Noor-Ul-Iman School may provide links to other sites, as needed to promote the school. Noor-Ul-Iman School is not responsible for the content or privacy practices of other sites. Noor-Ul-Iman School encourages you to learn about the privacy practices of those companies.
Information Sharing
Noor-Ul-Iman School does and will not sell, trade, or rent your personal information to others, except if you have authorized its use.. It may disclose your personal information when we believe, in good faith, that such release is reasonably necessary to (1) comply with the law, (2) enforce or apply the terms of our user agreements, or (3) protect the rights, property, or safety of Noor-Ul-Iman School, our users, or others.
Internet Security
Noor-Ul-Iman School strives to protect your personal information. While no system can provide guaranteed security, we take reasonable efforts to keep the information you provide to us secure. Please take every precaution necessary to protect your personal data when you are on the Internet. Also, take proactive steps to secure your personal data, such as frequently changing your passwords.
Changes to this Privacy Policy
Noor-Ul-Iman School reserves the right to change, modify, or update this policy at any time without notice. Any material changes in the way Noor-Ul-Iman School uses your personal information will be posted on this website.

Contact Information
Noor-Ul-Iman School welcomes your comments and questions regarding its privacy policy. If you feel that we are not abiding by this policy, please contact us immediately via telephone at (732) 329 1800.