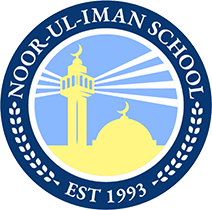 Our Vision
Noor-Ul-Iman School's vision is to illuminate a way of life that fosters strong and confident leaders guided by Islamic values and a moral compass to prepare them for success in this world and the next.
Our Mission
To foster future generations in a nurturing environment based on core Islamic values and instilling the love of Allah, the Quran, and the Prophetﷺ by Developing Character, Living Faith, Inspiring Leadership, Pursuing Knowledge, Serving and Building Community, and Achieving Excellence.
Our Core Values
Developing Character
We reflect the character of our Prophet Muhamad ﷺ through our actions

We perform righteous actions, encourage one another to the pursuit of truth, and to be steadfast in patience. (Reference Quran 103:3)
Living Faith
We bear witness there is no God but Allah (swt) and Muhammad ﷺ is the messenger of Allah.

We strive to be God-conscious, compassionate, loving, modest and responsible.
Inspiring Leadership
We are leaders who stand for justice, fairness and equality for all people, and we act with empathy, humility and honesty.

We empower our students and staff to be leaders who embrace compassion, responsibility and accountability.
Pursuing Knowledge
We strive to increase our knowledge of our Deen (faith) and to understand our purpose in life based on critical thought and contemplation upon the signs of Allah.

We seek beneficial knowledge of the sciences and the arts in order to ethically serve ourselves and the world around us.
Serving and Building Community
We nurture brotherhood and sisterhood in our school in order to serve and contribute to our local and global community.

We seek to build a sense of security and belonging through unity and understanding.
Achieving Excellence
We strive for Ihsan in all our actions

We nurture a love of learning for academic excellence, Islamic knowledge and values to promote physical, mental and spiritual well-being.