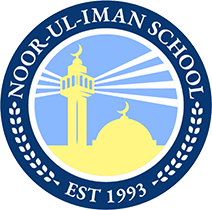 Admissions
Admissions Overview
We are a diverse learning community whose staff and student body originate from varying states, countries, and continents. Students study with and learn from others who share a love of learning. Our school community is brought together by a mutual desire to practice and preserve core Islamic teachings within a world-class educational environment.
Noor-Ul-Iman offers a comprehensive and rigorous academic & Islamic program for students in KG – 12th grade. They are immersed in an environment that focuses on teaching the students their faith and ensuring they are grounded in understanding foundational religious text that is reflected in building and embodying the Prophetic character. Students delve into academic study that helps them make connections to the real world and allows them to engage in collaborative inquiry-based learning.
Noor-Ul-Iman further offers a formal Physical Education class, series of electives including art, foreign language, computers, AP and college courses for high school students, and extracurricular activities, sports and clubs. Students can organize clubs, activities, competitions, and service projects based on their interests.
Reach out to us, we look forward to meeting your family!
The Noor-Ul-Iman Admissions Team